Discover more from Feminist Food Journal
An online magazine dedicated to a feminist food future.
Over 2,000 subscribers
Bitter Oranges
Reflections on the City and the Self
A story about belonging, heritage, and migration told through the politics of everyday moments.
By Theodora Cadbury | Paid subscribers can listen to a version of this piece, read by Theodora, on our podcast.
When I first moved to Barcelona I lived in an old industrial Catalan neighbourhood near the sea — now better known for its coworking spaces than its warehouses — where the streets are lined with orange trees. In spring you walk surrounded by the scent of blossom tinged with the unexpected sourness of fermenting fruit fallen from the trees. Below the branches, pockmarked oranges lie dusty in the tree pits alongside dogs desperate to relieve themselves anywhere except the concrete. 
If you don't look down, the orange trees contribute to a vision of an idyllic city. As a visitor or an immigrant (these classifications blur in my mind when I see graffiti demanding "TOURISTS GO HOME" and wonder if it applies to me) you are left wondering why nobody picks these bright fruits. Why isn't everybody taking oranges away to split and juice, or rushing home to scrape away the segments from the pith with their teeth over the kitchen sink before even taking off their shoes? It's because Barcelona's street oranges are bitter. It's not that they've been sullied by car fumes (though I'm sure the pollution doesn't help). They are bitter by name, and bitter by nature; these are bitter oranges, also known as Seville oranges, and nobody here seems to understand why the city would plant over 3,300 trees bearing fruit that nobody wants to eat.
Most Catalan residents see them simply as bad oranges, but in London, where I grew up, Seville oranges are famous for making marmalade, a condiment so quintessentially British that Paddington Bear and the Queen bonded over it at Buckingham Palace. The fact that marmalade feels so British even though neither of its two main ingredients are grown at scale in the UK seems quintessentially British in itself. The sugar trade was founded on the labour of African people enslaved in the Caribbean by the British Empire; present-day fruit picking in Spain raises strong concerns about modern slavery due to poor conditions imposed on migrant workers. In a way, it's no surprise that we've found a way to capitalize on these two raw situations and ingredients to make a recipe we call our own. 
As someone from a country built so foundationally on exploitation, enjoying any product of that legacy feels sticky. I could simply swallow this history and accept it, but I am more drawn to delving my hands deep into that stickiness, perhaps to squeeze out understanding, or reckoning. What emerges feels messy, and I try my best to accept how it lands in my mixed heritage body and to make sense of what I see through the prism of my different identities.
As a young woman denying my queerness, I avoided reading Oranges Are Not The Only Fruit as if it would give too much away, and instead settled into coming out by watching Orange Is The New Black (where fresh oranges only occasionally feature on grey breakfast trays or as a clandestine treat peeled and eaten alone). Later, sharing a house in London with two other women my age, I started hosting Passover Seder meals to share my Jewish traditions with some of the women I was closest to in the city. Passover Seders involve a retelling of the exodus of Jewish people from slavery, reminding us of our collective duty to fight in solidarity with all oppressed peoples. A Passover Seder centres around a Seder plate filled with various traditional symbolic foods which are eaten ritualistically over the evening: herbs such as parsley to remember the bitterness of slavery; a roasted egg to symbolize life, death, and renewal; and, for many feminists, an orange. 
Why an orange? The idea comes from feminist Jewish scholars who introduced it to symbolize the inclusion of women and queer people in Jewish religion and culture — the fruitfulness that bursts forth when people from minoritized and marginalized communities have a seat at the table. So my friends and I — many neither queer nor Jewish — ate slices of sweet oranges as part of the ritual meal, spitting out the pips to enact our rejection of all forms of oppression as we took turns reading and reflecting on an alternative retelling of the story from our chosen Haggadah, Love & Justice (in times of war). The orange sits amongst other new additions to our ritual foods: a chilli for the climate crisis and an olive for freedom in Palestine.
As I think about who in Barcelona to share this combination of traditional and transgressive rituals with for the first time, I wonder if we could use an orange from the city's trees on this year's Seder plate. Wouldn't it be perfectly symbolic to share an orange grown on the streets of our new home, not just to represent inclusion for women and queer people, but also to seek acceptance from the city as women born elsewhere? But while we have herbs on the Seder plate to remind us of the bitterness of slavery and oppression, the point of the orange is to represent the sweetness of inclusion. Using bitter oranges would make our presence seem unappetizing — it seems some things need sugar to make them palatable.
***
Now that he's in the later stages of diabetes my dad eats No Added Sugar marmalade made with Sorbitol, but as a child, I remember him eating the real stuff on toast in the morning at the weekends. I was convinced only grown men like him could handle the bitter flavour and the thick cuts of orange rind. It had the same status in my mind as a Yorkie bar: "Not for girls". The marmalade my dad ate was shop-bought — he's only ever in the kitchen to make chocolate cake for a birthday and, though my mum cooks dinner every night after a long day's work, she's never been into making things she could easily buy. 
I don't remember which brand we used to have on the breakfast table, but two of the most well-known commercial versions have their roots in British cities and both bear men's names: James Keillor & Sons from Dundee, and Frank Cooper's from Oxford. If you look at the small print you see it was actually Janet Keillor and Sarah Jane Cooper — not son James and husband Frank — who came up with their original 19th-century recipes using oranges from Seville and sugar undoubtedly grown, harvested, and processed by enslaved people in the Caribbean. Writes Marissa Nicosia on the arguments of feminist scholar Kim F. Hall:
[Her] work on sugar and status in the early modern era rightfully insists that women's aspirational confectionary work deeply implicated them in the labour conditions of enslaved people of African and Caribbean descent who worked in orange groves and sugar cane fields halfway around the world. It is only these global systems of exploitative labour and overseas shipping that would allow an accomplished lady to prepare a citrus marmalade.
Another brand, Robertson's, was also originally made by a woman only known as "Mrs Robertson"(her first name presumably lost to time and lack of interest). Until 2002, Robertson's mascot was a Golly (a racist, anti-Black caricature), which was finally replaced in 2014 with the much more commercially (and politically) friendly Paddington Bear, a modern symbol of refugee inclusion. I wonder what was on the front of the marmalade jars my parents used to buy. 
The idea of making marmalade, rather than having it materialize magically in the cupboard, didn't enter my life until my girlfriend did. She came with a collection of River Cottage Handbooks, simple but beautiful instructional guides on how to make your own bread and preserves, and how to forage and ferment. During the pandemic, we spent months on end stuck with my parents in London, and the arrival of Seville oranges to the (online) shops in the darkest days of two consecutive Januarys created a new and much-needed shared ritual: the joy of a Saturday spent boiling, de-pipping, slicing, and stirring kilos of the bitter fruits with twice their weight in sugar into jar upon jar of deep golden marmalade.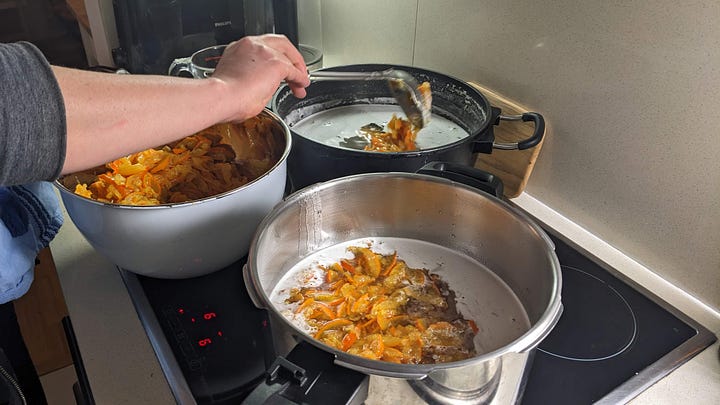 Preserving food is all about using gluts in one season to ensure you have food through the next. But Seville grows over 4 million kilos of bitter oranges a year, almost entirely for the British marmalade market. Making marmalade in London, therefore, felt somewhat futile: we were preserving fruit grown in Spain for the mass-manufacture of the very conserve we were making. Maybe the real draw was just the opportunity for me, a city girl, to connect to the country idyll that I often dream of. Making marmalade gives me a short glimpse into the Instagrammable life of a rural domestic goddess — always a goddess, never a god — donning an apron and blissfully stirring a bubbling pot of jammy fruit in a naturally lit, rustic kitchen.
As a child marmalade was for men, but it's now my mum, my girlfriend and me who enjoy the fruits of our labour. It's my mum who decides that our first year's yield of five jars isn't quite enough, so the next year we order an extra kilo of oranges and leave plenty of jars with her in London, taking just a couple with us to our new city. As we get further into our first roundtrip through the seasons in Barcelona, spring is approaching and we are halfway through our last jar. We decide it's time to make our first batch here. 
Concerned about how it would look to start harvesting fruit on the streets, I set about going from supermarket to market, looking for naranjas de Sevilla (Seville oranges) or naranjas amargas (bitter oranges). Both the shelves and the shop assistants look at me blankly, so I wonder if I've got the translation right. Google tells me that they are also known as naranjas agrias (sour oranges), but I don't understand how they could be known as both bitter and sour — perhaps it's just about warning people that these are not the sweet oranges they know and love. It reminds me of a citizen science project I was involved in London with a community of women from migrant and non-migrant backgrounds, where a Syrian woman I had become close with over the years described how, at home in Damascus, she had both an orange tree and a bitter orange tree. One of the British women assumed she had got the English translation wrong and corrected her. "You mean two orange trees. There's only one type of orange." The assumptions this comment lays bare, and the discussions it sparks, end up leading us to name our project documentary "An orange tree, and a bitter orange tree".
All this wondering about and translating oranges, but nobody in Barcelona stocks them. All I get is a pitying look from the supermarket staff, who I assume feel sorry for this strange woman with an accent who wants to buy bad oranges that she could get for free on the street. I update my mum on the situation, and she offers to bring a few kilos in her suitcase when she next visits. I refuse. The irony of bringing Seville oranges, imported to the UK, back to Spain feels like too much, even though I quickly realize it's no more absurd than many other international food arrangements. In any case, I've already hatched another plan. 
My girlfriend volunteers at a community garden run by local residents following a community campaign to Salvem l'Alzina ("Save the Oak" in Catalan), which stopped developers from tearing down the oldest tree in the area. The area has now been converted into a small park with boardwalks protecting the oak's roots, a small huerto (allotment), borders of succulents and shrubs, and two smaller citrus trees: a lemon tree, and a bitter orange tree.
She's been volunteering there for six months and has been completely welcomed in, despite being a few decades younger than anyone else and the only foreigner. There are two rival factions in the garden: a group of older Catalan women who run the show, and men who hate being told to water anything except what they've planted themselves. They all speak to her — often to complain about each other — in a mix of Spanish and Catalan, teaching her words while they learn from her years of working as an urban community gardener in London. I convince her to ask the women if we can take oranges from the garden, to see if anyone would mind. Her tentative request is met with laughter. "Go ahead, nobody else wants them," one woman says, chuckling at the strange British and their bitter marmalade.
Nervous that someone will spot us and think we're stealing from the community, we head out on a Wednesday morning when we should be working, armed with a huge empty bag and a small knife. We set up the rickety ladder, and she supports it while I climb up and pick orange after orange after orange from the tree. Inside the branches, I'm overwhelmed by the sharp scent of pith bursting through the oranges' puckered, rough skins, and when I eventually clamber down, I have scratches on my jacket and leaves in my hair. As we admire our harvest, we suddenly hear drums and cheers nearby. 
Laden with fruit, we follow the sound to a square two streets away and it's only then that we remember it's 8th March. The Día de la Mujer (International Women's Day) is a bigger deal here than in any other city I've lived in; posters about the Vaga General Feminista (Feminist General Strike) have been plastered all over town. We get to the square just as the drumming stops and women are gathering and shouting, at once convivial and filled with rage. After a while, a few women lift a banner and everyone follows as they start marching across the square and down a main shopping street into town. They are heading towards the city centre, where later that day, as I cycle to my Spanish class, I'll pass women calmly blocking traffic by sitting on a main road.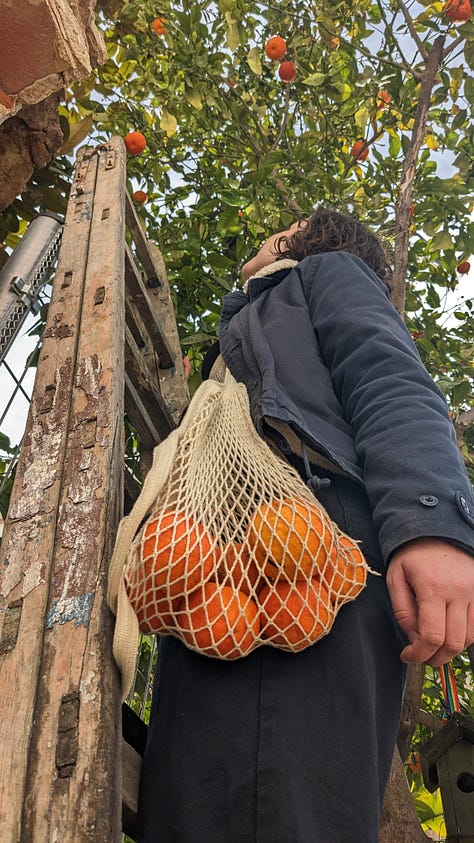 Feeling lifted, we walk the oranges home then go our separate ways to get some work done. It's not until a Sunday two weeks later that we finally find time to simmer them whole for a few hours until their rind can be easily pierced with a fork, slice the now-soft skin, remove the pips, and boil it all together with the sugar until the mixture sets. We start the process too late, so we only end up sealing the jars after midnight. It's not quite an idyllic moment, as we, somewhat grumpily, stand over the stove, willing the bubbling juice to turn to something like jelly so we can go to bed. I could easily take pictures of the jars the next morning and pretend that I live the life of a country housewife, but I have to go to work. 
***
We read soon after that there had been a huge collection of street oranges in our neighbourhood and others just a few weeks before, to make marmalade for Barcelona residents "experiencing food poverty or at risk of social exclusion". Given how people responded to our attempts to source oranges to make marmalade for ourselves, I am left wondering whether this is a dignified way of using the city's surplus for people who don't have enough to afford the essentials. Nevertheless, we would have volunteered if we'd known about it, but finding out about activities like this is hard as a newcomer. 
Perhaps it's mad for me to spend time making marmalade when so much other food is readily available on our doorstep in this city. But now, any time I tuck into a bite of it spread thickly on toast, I remember the magic of seeing the streets lined with oranges when I first arrived here, the old vecinas in the community garden who have welcomed us in, and the crowd of women drumming in the square on the Día de la Mujer. I remember choosing not to have a bitter orange on the Seder plate, and I consider the dark history of the sugar needed to turn them into sweet marmalade. And while I don't live in rural domestic bliss surrounded by orange groves and birdsong, I do feel connected to the land where I live, growing closer to this new city as a woman born in another. And there's nothing that feels bitter about that.
Theodora Cadbury is a facilitator and participatory organizer. She works with social & environmental justice organizations, founded grassroots feminist organisation Xenia, and loves to make delicious food unnecessarily from scratch.